Una FTC más agresiva persigue las fusiones en la industria farmacéutica y a los intermediarios del sector
Bajo la dirección de una agresiva opositora al comportamiento empresarial que menoscaba la competencia, la Comisión Federal de Comercio (FTC) está actuando contra las empresas farmacéuticas y los intermediarios del sector, como parte de la campaña de la administración Biden para reducir los precios de los medicamentos en las farmacias.
El 16 de mayo, la FTC interpuso una demanda para bloquear la fusión de las farmacéuticas Amgen y Horizon Therapeutics, alegando que la enmarañada red de acuerdos de la industria  permitiría a Amgen aprovechar el poder monopolístico de dos de los principales medicamentos de Horizon que no tienen rivales.
En su demanda, la FTC alegó que si se permitía la compra que pretende Amgen por $27,800 millones, Amgen podría presionar a las empresas que gestionan el acceso a los medicamentos con receta —los gestores de beneficios de farmacia, o PBM— para que impongan los dos productos extremadamente caros de Horizon de una manera que eliminaría cualquier competencia.
Es la primera vez desde 2009 que la FTC intenta bloquear una fusión de empresas farmacéuticas, y esta demanda refleja el gran interés de la presidenta Lina Khan por las medidas antimonopolio. Al anunciar la demanda, la agencia declaró que al luchar contra los poderes monopolísticos pretendía controlar los precios y mejorar el acceso de los pacientes a productos más baratos.
Para Robin Feldman, profesor y experto en la industria farmacéutica de la Facultad de Derecho de la Universidad de California en San Francisco, la actuación de la FTC es "un golpe frontal a la industria farmacéutica". David Balto, ex funcionario de la FTC y abogado que luchó contra las fusiones Bristol-Myers Squibb-Celgene en 2019 y AbbVie-Allergan en 2020, dijo que la acción de la FTC era necesaria desde hace mucho tiempo.
La fusión Horizon-Amgen "costaría a los consumidores precios más altos, menos opciones e innovación", señaló. "La fusión habría dado a Amgen aún más herramientas para explotar a los consumidores y dañar la competencia".
La FTC también anunció la ampliación de una investigación de un año sobre los PBM, indicando que se investigaban dos gigantescas empresas de compra de medicamentos, Ascent Well being Providers and products y Zinc Well being Providers and products. Los críticos afirman que los PBM crearon estas empresas para ocultar beneficios.
Cuando Amgen anunció la compra de Horizon en diciembre —la mayor operación biofarmacéutica de 2022— mostró especial interés por los medicamentos de Horizon para la enfermedad tiroidea ocular (Tepezza) y la gota grave (Krystexxa), por los que la empresa cobraba hasta $350,000 y $650,000, respectivamente, por un año de tratamiento. Según la demanda, la fusión perjudicaría a rivales biotecnológicos que tienen productos similares en fase avanzada de pruebas clínicas.
Según la FTC, Amgen podría promocionar los fármacos de Horizon a través de la "venta cruzada". Esto significa exigir a los PBM que promocionen algunos de los medicamentos menos populares de Amgen —los productos Horizon, en este caso— a cambio de que Amgen ofrezca a los PBM grandes descuentos por sus superventas. Según la denuncia, Amgen tiene nueve medicamentos que el año pasado generaron más de $1,000 millones cada uno. El más in model es Enbrel, que trata la artritis reumatoide y otras enfermedades.
Los tres mayores PBM negocian los precios y el acceso al 80% de los medicamentos recetados en Estados Unidos, lo que les confiere un enorme poder de negociación. Su capacidad para influir en los medicamentos a los que tienen acceso los estadounidenses, y a qué precio, les permite obtener miles de millones en descuentos de los fabricantes.
"La posibilidad de que Amgen pudiera aprovechar su cartera de medicamentos superventas para obtener ventajas sobre sus rivales potenciales no es hipotética", afirma la denuncia de la FTC. "Amgen ha desplegado esta misma estrategia para conseguir condiciones favorables de los pagadores y proteger así las ventas de los medicamentos de Amgen en dificultades".
La denuncia señaló que la biotecnológica Regeneron demandó el año pasado a Amgen, alegando que la estrategia de reembolso de esta última perjudicó la capacidad de Regeneron para vender su medicamento competidor contra el colesterol, Praluent. Repatha, de Amgen, generó unos ingresos mundiales de $1,300 millones en 2022.
Según la demanda, "puede resultar completamente imposible" para los rivales más pequeños "igualar el valor de los reembolsos agrupados que Amgen podría ofrecer", ya que aprovecha la colocación de los medicamentos de Horizon en los formularios de los planes de salud.
Los analistas de la industria se mostraron escépticos sobre el éxito de la acción de la FTC. Hasta ahora, la Comisión y el Departamento de Justicia han evitado cuestionar las fusiones farmacéuticas, un precedente difícil de superar.
Las investigaciones sobre el impacto de las fusiones han demostrado que a menudo benefician a los accionistas al aumentar el precio de las acciones; pero perjudican la innovación en el desarrollo de fármacos al recortar los proyectos de investigación y el personal.
Las olas de consolidación redujeron el número de empresas farmacéuticas líderes de 60 a 10 entre 1995 y 2015. Según Feldman, la mayoría de las fusiones de los últimos años se han producido entre "peces gordos que adquieren muchos peces pequeños", como empresas de biotecnología con fármacos prometedores.
La gigantesca fusión Amgen-Horizon es una excepción obvia y, por tanto, una buena oportunidad para que la FTC demuestre la "teoría del daño" en las maniobras de consolidación de la industria farmacéutica con los PBM, dijo Aaron Glick, analista de fusiones de Cowen & Co.
Pero eso no significa que la FTC vaya a ganar.
Amgen puede incurrir o no en prácticas anticompetitivas, pero "otra cuestión es cómo encaja esta demanda en las leyes antimonopolio y los precedentes actuales", señaló Glick. "Tal y como está configurada la ley hoy, parece poco doable que se sostenga en los tribunales".
El argumento de la FTC sobre el comportamiento de Amgen con los productos Horizon es hipotético. La demanda pendiente de Regeneron contra Amgen, así como otras demandas que han prosperado, sugiere que existen normas para suprimir este tipo de comportamiento anticompetitivo cuando se create, añadió Glick.
El juez que preside el caso en el Tribunal de Distrito de Estados Unidos en Illinois es John Kness, quien fue nombrado por el entonces presidente Donald Trump y es un ex miembro de la Federalist Society, cuyos miembros tienden a ser escépticos sobre los esfuerzos antimonopolio.
Es doable que el caso se resuelva antes del 12 de diciembre, fecha límite para que la fusión se lleve a cabo en los términos actuales.
Amgen trató de socavar los argumentos del Gobierno comprometiéndose a no agrupar los productos de Horizon en futuras negociaciones con los gestores de beneficios farmacéuticos (PBM). Esta promesa, aunque difícil de hacer cumplir, podría obtener una audiencia favorable en corte, apuntó Glick.
Sin embargo, incluso una derrota permitiría a la FTC arrojar luz sobre un problema en la industria y lo que considera una deficiencia en las leyes antimonopolio que quiere que el Congreso corrija, explicó.
Al día siguiente de ir a corte para detener la fusión, la FTC anunció que profundizaba en una investigación sobre los gestores de beneficios farmacéuticos que inició el pasado mes de junio. La agencia solicitó información a Ascent y Zinc, los dos llamados agregadores de reembolsos, organizaciones de compra de medicamentos creadas por los PBM Enlighten Scripts y CVS Caremark.
En una audiencia celebrada el 10 de mayo, el CEO de Eli Lilly & Co., Dave Ricks, afirmó que la mayor parte de los $8,000 millones en cheques de reembolso que su empresa pagó el año pasado fueron a parar a los agregadores de reembolsos, en lugar de directamente a los PBM. Una "gran parte" de los $8,000 millones fue a parar al extranjero, indicó Ricks. Ascent tiene su sede en Suiza, mientras que Emisar Pharma Providers and products, un agregador establecido por PBM OptumRx, tiene su sede en Irlanda. Zinc Well being Providers and products está registrada en Estados Unidos.
Los críticos afirman que los agregadores permiten a los PBM ocultar la cuantía y el destino de los reembolsos y otras comisiones que cobran como intermediarios en el negocio de los medicamentos.
Por su parte, los PBM aseguran que sus esfuerzos reducen los precios en el mostrador de la farmacia. Los testimonios en el Congreso y en las audiencias de la FTC del año pasado indican que, al menos en algunos casos, en realidad los aumentan.
#Beneficial properties, Explained: I'm Sick of My Swolemate. How Manufacture I Split With My Gymnasium Accomplice?
Manufacture you marvel what the most straightforward draw is to depend units and reps? Why you mustn't skip leg day? Now we possess solutions. Here is #Beneficial properties, Explained, a dwelling for you to quiz any and every ask about fitness. The Males's Neatly being crew (and varied consultants) are here for you.
To post a ask for a future column, fetch out this fabricate.

---
I have been figuring out with a coaching companion for the outdated couple of months, but it's now not working for me. They slack me down, and construct now not push me. How fabricate I lose them without making it awkward at the health club the subsequent few months?
-I'm Sick of My Swolemate
GOOD RELATIONSHIPS CAN be out of the ordinary, no matter where you would be. The health club is rarely any exception, even though it's more linked to macho flexing than sharing emotions. The bond you would also create with a coaching companion is a special one. No longer easiest fabricate you can possess got a buddy you would also rely on to portion the draw you would be feeling, every physically and mentally, you can possess got somebody on your existence who (ideally) shares the same motivations, objectives, and willingness to spend time working to manufacture them. Some of my easiest friendships were both established or bolstered by coaching collectively—no matter every little thing, there are few more wise experiences for building have confidence than saving your buddy from getting overwhelmed by a barbell with a appropriate convey.
So for those that might presumably well presumably be now not feeling tall relating to the dynamic you can possess got with your coaching companion, you'll be successfully served to rob the same care that it's doubtless you'll presumably well with any varied type of relationship for those that creep about resolving your concerns. Perhaps you would be now not seeing eye-to-eye on for those that might presumably well presumably be making an are attempting to figure out, what your objectives are, or you wish somebody who's more desirous to encourage you to total out a out of the ordinary convey. In this case, you're going to want to put collectively for thought to be some of the vital complex aspects of a partnership: ending it.
Breakups suck, no matter the context. There's no appropriate technique to repeat somebody that you just bought the ick and also you now not are making an are attempting to spend time with them. To better realize the draw you would composed system that out of the ordinary discuss, I spoke to Shadeen Francis, LMFT, CST, an licensed sex therapist and licensed marriage and family therapist.
Francis says that you just shouldn't delude your self into pondering that you just'll be ready to web throughout the breakup without some fabricate of emotional response, every from your coaching companion and your self. You're every participants, although you happen to largely shut off your emotions in the health club to level of interest for your workout routines. Francis notes that you just particularly can't fabricate the rest about how your quickly-to-be weak lifting buddy will react to the news that you just now not are making an are attempting to be there to present them a convey.
"It is rarely internal your adjust, nor is it your accountability, to preserve somebody else from having emotions," she says. "You will possess the most ideally suited, obvious, loving dialog with this particular person, and so that they might presumably well presumably composed now not rob it thoroughly. That will presumably well presumably create things sorrowful for the two of you."
Feeling sorrowful is now not a appropriate motive to preserve some distance off from the dialog, whether or now not you rob one low or the assorted. Ghosting out of the partnership guarantees awkwardness if you happen to ever are making an are attempting to repeat your face at your health club yet again, and Francis says that having a dialog now not lower than permits you to "web a meaningful off ramp," out of the connection. On the assorted hand, you would be atmosphere your self up for even higher concerns if you happen to apt follow your coaching companion to preserve some distance off from battle. "You might presumably well presumably be now not giving them a comely chance, because you would be in actuality now not in it anymore, you can possess got left," she says. "It doesn't in actuality creep your relationship forward—it apt makes you resentful." Resenting the actual person it's miles important to have confidence to construct you with a appropriate convey if you happen to fail a elevate isn't very ideally suited. You might presumably well presumably additionally beginning up dreading your workout routines collectively and discovering excuses to skip out.
"The prices are in actuality excessive, for the reason that connection to fitness and motion and successfully being and your physique takes up hundreds of psychological dwelling," Francis says. "Even as you would be also now not feeling present and engaged on this say that you just would be doing on your total successfully-being, what does that cost you down the avenue?"
Even as you've reached the level of no return with your coaching companion, taking a measured system to the breakup might presumably well presumably encourage to create the job much less painful. Francis has a sport conception you would also use to communicate through your disorders with your quickly-to-be ex-swolemate. Above all, she says strive to be obvious you utilize two guiding tips on your system to communicating your design to total things: be obvious and variety.
Take a look at In
First, you would composed impress in with your coaching companion to peer how they're feeling. Francis says that this is an particularly invaluable effect to beginning up if you happen to're now not 100% particular that you just in actuality are making an are attempting to cleave aid them out fully. Here's how she recommends you beginning that discuss: "I possess now not been feeling tall about this exercise conception that we've. I'm recognizing we figure out at varied paces and we've varied ranges of energy. I are making an are attempting to impress in with you—how are you feeling about it? Is that this working for you?"
From there, you would also assess the say and wish the draw you would be making an are attempting to creep forward.
Remark Your Wants/Needs
Endure in thoughts, you would be figuring out with this particular person because you made the decision at some level that became as soon as the draw you wished to spend your time. That can change—and it's vital to endure in thoughts your contain emotions and needs are vital and legit.
Francis recommends being crystal obvious about that shift in sentiment. Perhaps relish this: "We started this out of a mutual desire. And now I'd are making an are attempting to change it because my needs possess changed."
These doubtlessly might presumably well presumably now not be the true words you utilize, given the context of the say—but you would also use the specifics of your field to fetch in the blanks to create it more relevant to you.
Give Them the Floor
As soon as you've raised the matter and near successfully-kept about your emotions, you would also't apt stroll some distance off from the dialogue—literally or metaphorically—without giving them a gamble to particular theirs. "What most regularly hundreds of people fabricate on this job is they net in actuality obvious and so that they craft their variety message, and so that they send it in a text, and so that they're relish 'Huge, I did it!'" Francis says. "That is now not in actuality a dialog, and that's now not continuously the most straightforward technique to navigate a relationship."
Even when you happen to might presumably well presumably be communicating through text message—which Francis says is k, because you'll be ready to be as obvious as attainable in describing your needs without IRL distractions—you would also't apt leave their response on read (or unread). You might presumably well presumably composed be tantalizing to hear them out and acknowledge them, too.
Be Agency With Your Wants
Even as you're now not crystal obvious about what your needs are or if you happen to fight to convey boundaries with participants, what comes next might presumably well presumably be tricky. Francis says that some participants might presumably well presumably rob the advice that a relationship needs to change and stop as feedback for a approach they can change to create things work. That will presumably well presumably be all that's wished in some cases—but while you happen to're fully done, strive to be tantalizing to be firm about that.
Even as you're a participants pleaser, this can also additionally be particularly complex, but Francis presents two suggestions for one of these say. First, convey what your design for the final result of the dialog is at the outset. "Name that this is the search recordsdata from that I'm making, or this is the action that I'm taking," she says. This might presumably well be that you just in actuality are making an are attempting to head to the health club with them at the same time, but now not elevate collectively, or that you just would be going to search out somebody else to convey you.
Second, you would also direct how the assorted particular person might presumably well presumably react beforehand, so you can possess got an thought relating to the draw you would also counter their suggestions. "Per chance even draft out some capability responses, if [you] possess a sense that this particular person might presumably well presumably fabricate a small bit bit of rebuttal or boundary attempting out," she says.
Don't Be a Dick
This might presumably well in actuality feel relish hundreds of advice, but Francis says the breakup job can also additionally be boiled down to a straightforward TL;DR: "Manufacture a vibe check and construct now not be a dick about it."
Your system might presumably well presumably be a small bit more nuanced than that if you happen to were following along closely, but preserve that simple commentary in thoughts as you progress forward to the stop of your partnership. The Talk might presumably well presumably now not be as scary as you watched this can also additionally be at the outset. In any case, you're now not the most straightforward particular person in the partnership. They would presumably well presumably be apt as tantalizing to total things with you, too. In that case, want every varied successfully, and creep your separate ways. That it's doubtless you'll also continuously meet up after your exercise for protein shakes.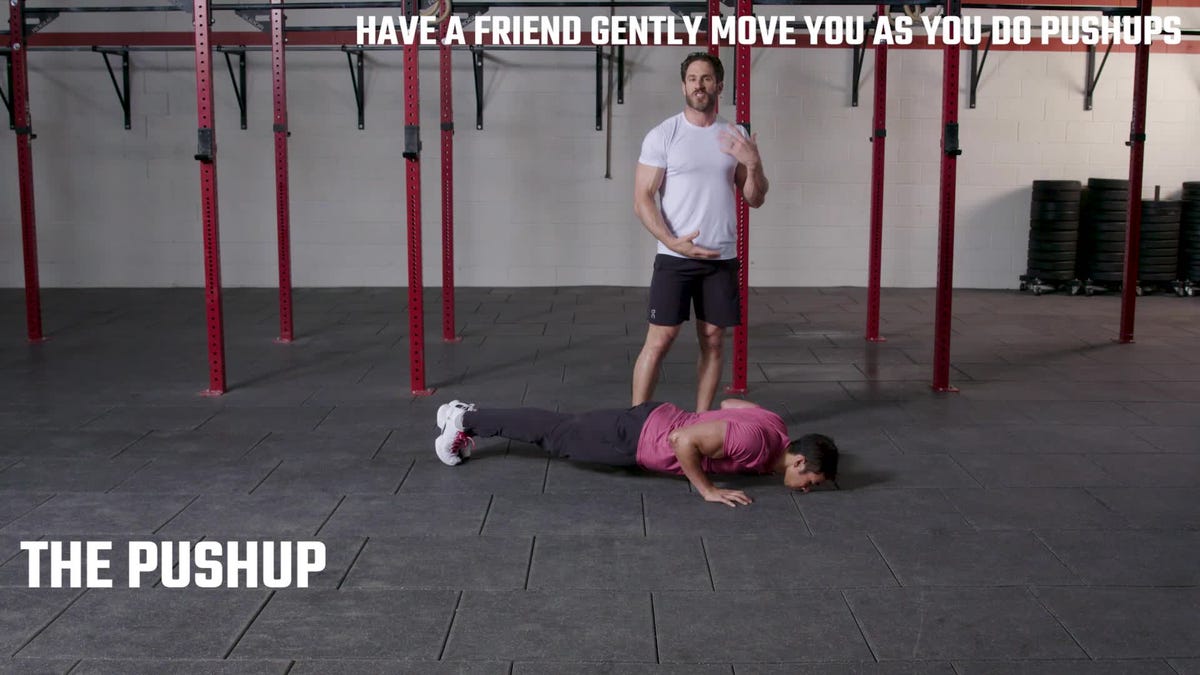 Brett Williams, a fitness editor at Males's Neatly being, is a NASM-CPT licensed trainer and weak pro football participant and tech reporter who splits his exercise time between strength and conditioning coaching, martial arts, and running. You will fetch his work in other locations at Mashable, Thrillist, and varied retailers.